Much of this material is taken from the history of Maurice O'Connell - with grateful thanks to his family for letting us use their research
Edit
Young men enlisted for the New Zealand Expeditionary Force which included the New Zealand personnel posted on Military Service to Egypt, Gallipoli, the western Front, Sinai and Palestine. They 'signed up' at local venues such as the Army Drill Hall, bank or Post Office. At first Maori were not allowed to join the Expeditionary Force.
The  number allocated to the young soldier would identify him for the duration of his military service.
Once in camp the young private would be issued with bedding, clothing and equipment. He would be assigned to a training unit. Only after he had been trained would he be assigned to a combat unit.He would also have undergone a dental inspection, innoculations and whatever medical care he needed to be delared fit to fight. 
see Documents for examples.
Trentham
was by fat the largest military camp in the North Island and was capable of training 14,000 men at a time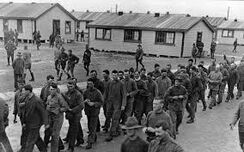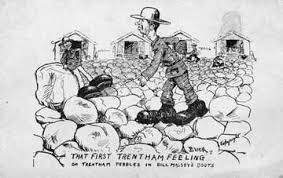 Over 15 weeks the men completed their basic training which aimed at installing obedience and discipline in the young soldiers
It also taught them military skills and increased their fitness. The programme included foot drills. small arms training,plus gas and baynonet training. Different aspects of training happened at Featherston and other camps but recruits began and ended their training at Trentham. 
Their new lives as full time soldiers meant a complete lack of privacy which was difficult to get used to.
They drilled, ate, showered and slept in groups, and even sat on the latrines next to eachother. They also queued for everything: food, mail - even their pay. Many new recruits found such close and regimented living conditions difficult to get used to.
HEADING TO WAR
Maurice O'Connell's experience was typical. He embarked from Wellington on the steamship 'Tofua' as part of the 25th reinforcements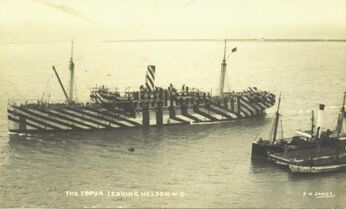 Conditions depended on what type of ship the soldiers were travelling on. Some had been passenger shiips before the war so were relatively luxurious, others had been cargo or horse boats. All these ships had been hurredly converted to carry as many horses and men and equipment as possible. 
Training continued throughout the 4-6  week journey with company parades, boat drills, short route marches around the decks and organised sports and lectures. There were often concerts and social events. When the ship docked the men were granted shore leave ( usually in Albany, Australia and in Cape Town. Private O'Connell's voyage took 12 weeks because the ship had to evade a Greman and Austrian submarine campaign in the Mediterranean at that time.