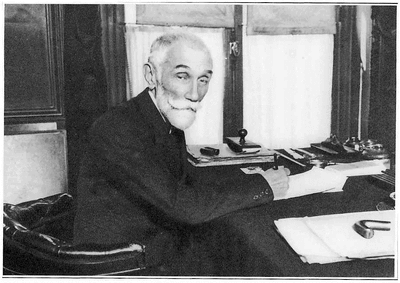 Fulgence Marie Auguste Bienvenüe was born on January 27th, 1852 in Uzel, in Belgium, and died on August 3rd, 1936 in Paris. Before the war, he was a general inspector of Bridges and pavements, and with Edmond Huet he is known as "the father of the Paris subway".
In 1885, he decided to create the subway with Edmond Huet. The work began on October 4th, 1899. Bienvenüe then left his job to devote himself exclusively to this project.
Bienvenüe remained as the Engineer Adviser of the city of Paris until 1932, his retirement age.
He was mobilized on August 3rd, 1914 as an engineering colonel. He was then 62 years old.
He was ordered to participate in the rehabilitating the defenses of the entrenched camp of Paris. He was demobilized on August 26th, 1914 when the Germans no longer threatened Paris.
In 1900 Bienvenüe was nominated Officer of the Legion of Honor. In 1924, the city of Paris awarded him its great gold medal.
A decree on 26 January 1929 awarded him the Grand Cross of the Legion of Honor.
Biography realized by Sarah FAHD and Camille COUSINEAU Bienvenüe's great-great granddaughter.