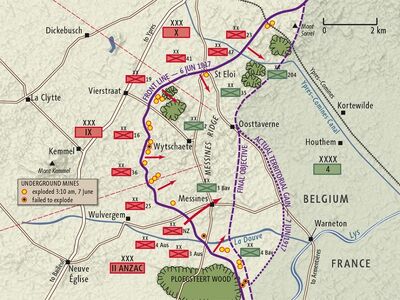 Part 1: Haig and plans
Edit
Launched in the middle of 1917. Sir Douglas Haig, commander-in-chief wanted the Germans to suffer a lot of tragedies and problems that would hopefully put them in great danger (a bit like the Battle of Somme the previous year). This was all because the Germans had lead a big group of French troops into big trouble. A tactic was that the Pilckem ridge as well as the Geluveld plateau were able for them pass through the town of Roulers. At once when then the al-lies of the British got their transport they would eventually drive north to neutralize the Germans U-boat facilities there.
Part 2: The attack off the New Zealand division
Edit
For the main plan to work, there had to be one requirement; the Germans had to keep clear from the Messines Ridge to the south. If the Germans were there they could easily observe Haig's battle plans. Haig commanded that the British would have to seize the territory and defend it. The New Zealand Division played a big part in this time of the Battle.
The plan was successful. The New Zealand Division attacked at 3:10am on 7 June 1917. This was achieved by blowing up the tunnel mines on the german side. At the ex-act moment the New Zealand 2nd and 3rd brigade rushed over to the ridge in front. The Australian + British troops copied the New Zealand Brigade and did the same. These troops easily crossed "no mans land" within minutes.
All the objectives went in order and by 7 am the New Zealanders had cleared all the Germans in the Messines village. Even the 1st New Zealand brigade was able to tidy up the enemies beyond the village. The Germans weren't finished yet when they attacked back in the noon. The Australian troops kept guard beyond the crest.
Part 3: Mission accomplished
Edit
The take-over of the Messines couldn't have been achieved without a few mistakes and injuries. German weapons had a very big attack on the opposition side; taking over land with a fierce attitude resulting many New Zealanders and allied troops killed. On the 9th of June more than 3700 people had been injured including 700 dead.